Real Estate In Fethiye Turkey – Why Do I Need It?
Fethiye is a city on the southwest coast of Turkey in the province of Mugla.
It is a popular resort located on the shores of a natural harbor. It is an ideal starting point for exploring the many tourist attractions and activities on the famous Turquoise Coast.
Fethiye Turkey is a laid-back and pleasant city with an ancient history and a dynamic modern rhythm, with many majestic UNESCO-protected rock tombs and ruins in its vicinity. 
This real estate area is diverse and also filled with multiple thriving summer camps and resorts, historic villages, off-the-beaten-track hideaways, along with tranquil bays. Houses and villas in Fethiye are available in various locations to suit most tastes and budgets. 
Here Are The Five Best Things To Consider When Buying Property In Fethiye Turkey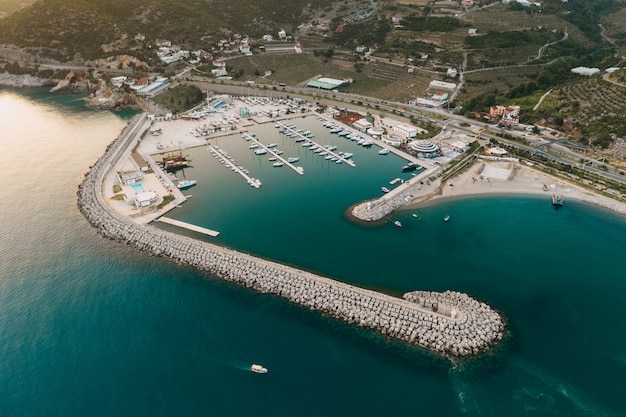 If you're thinking of buying a Turkish home, here are a few things to consider that may help sway your decision.
1. Fethiye As A Comfortable Place For Living
If you have an opportunity to speak to property owners in Fethiye Turkey, who have relocated here, the chances of finding those who regret the purchase are incredibly small. But what makes Fethiye in Turkey a stunning destination for a permanent stay?
2. Transport Accessibility
The systems of air, land, and water transport are well-developed in the area. Residents of Fethiye Turkey can easily reach any international destination due to the near proximity of the airport. Advanced land transport allows traveling around the country without any trouble. 
Water transport is mainly used for exploring the nearby localities and enjoying transparent waves and calm vastness.
3. Excellent Yachting Opportunities
Sailing is the most appreciated activity in the area. Fethiye hosts several world-class marinas for ships from all over the world. 
Professional sailors and newcomers are welcome to explore the large 400-seat Fethiye Turkey Ece Marina on the south shore of the bay, the 30-berth Yacht Classic Hotel Marina, located in the west of Fethiye Ece Marina, Yes Marina, a small 20-seater marina location around a mile and a half further west, and Letoonia Marina, located on the north side of the bay.
4. Extensive Collection Of Housing
The variety of housing available for foreigners impression. A buyer can purchase an apartment of various footage, a spacious villa, or a stylish house in any location. 
Housing in Fethiye Turkey is developed with the implementation of modern technologies and high-quality materials. A responsible approach to the development of residential units makes the life of residents comfortable and tranquil.
5. Breathtaking Landscapes
Stunning landscapes and magnificent attractions force foreigners to consider purchasing real estate in Fethiye Turkey. 
The small town Oludeniz, the gorge Saklikent, Calis Beach, the ruins of the ancient city Tlos, and plenty of other interesting sites make the area extremely photogenic and help photos of local attractions become the cover of travel magazines and brochures.
Property In Fethiye As A Reasonable Investment
As a rule, the resort destinations are characterized by extremely expensive housing. However, Fethiye Turkey is famous for its affordable cost per square meter. 
Additionally, all types of property options in Fethiye promise to be available at an exceptional value. Since the local real estate sectors are still in the developing mode. There are high chances of multiplying the return for those who invested in Fethiye. 
Apartments and villas in the area are in high demand among tourists, especially in the hot season. Therefore, a buyer can invest in rental real estate and get up a sound passive income each month.
Buying property in Fethiye is a seamless and facile process due to the law improvements. Today, any foreigner can make a secure investment in real estate in Turkey and get a title deed. Moreover, if investing in the sector of real estate is more than $400,000, a foreign buyer may apply for Turkish citizenship.
Cost Of Real Estate In Fethiye
The cost of real estate in Fethiye Turkey ranges from €30,000 to €500,000. The price depends on the quality of the acquired asset and the location. If you desire to buy an apartment or a villa right on the coast, the price will be higher. Housing in the city center, as a rule, is more expensive for buyers than assets on the periphery.
One more affordable option is to invest in real estate under construction. Such property costs less but can be resold upon delivery at a significantly higher price. The developers offer flexible payment plans that can be negotiated not to put any obstacles for foreigners.
If you are looking for exclusive real estate in Fethiye, monitor the aggregator Turk.Estate. The catalog provides a variety of accommodations of different types to meet the needs of foreign buyers.
Here, you can easily choose a house for your summer vacation or relocation to Turkey or an apartment in a beneficial location for future leasing. Real estate from reliable developing companies creates no problems with the purchase and is used to deliver the best experience. 
Bottomline: The Expected Outcome
Experts agree that buying a property is one of the best ways to invest free capital in the long term. Given the relatively low cost of real estate in Fethiye Turkey, and the many benefits described above, by choosing this resort, buyers will definitely be satisfied with the transaction.
Read Also:
Arnab
Arnab Dey is a passionate blogger who loves to write on different niches like technologies, dating, finance, fashion, travel, and much more.